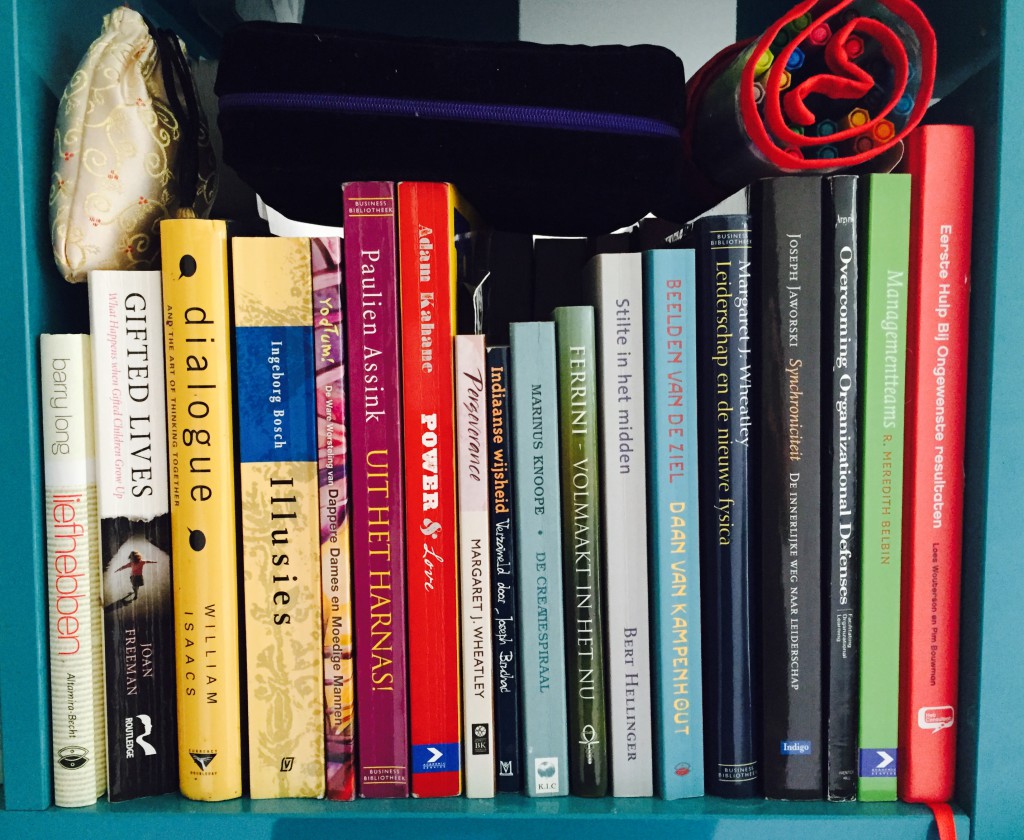 This is my shelf with my most important sources of inspiration. Some books, a golden bag with a talking symbol (round stone) that I use in dialogue conversations, a black velvet bag with a wooden table constellation set by Oase and my set of markers in all colors which I use to make mindmaps.
The books:
Gifted lives by Joan Freeman, about the vulnerability and resilience of highly gifted people.
Dialogue by William Isaacs, the standard for dialogue.
Illusions by Ingeborg Bosch, an inspiring method of psychotherapy which integrates the past in reality of now.
Uit het harnas! (Leave your armor!) by Paulien Assink and the PAL-training by pioneers in authentic leadership: working to strengthen your Authentic Self through four dimensions – the fysical, mental, emotional and spiritual.
Love and Power by Adam Kahane.
Perseverance by Margaret Wheatley. My personal favorite for inspiration.
Synchronicity by Joseph Jaworski which insider me to follow my heart.
Leadership and the new fysics by Margaret Wheatley about the relationships between changes in nature and in organisations.
Overcoming organizational defenses by Chris Argyris on why we so often react defensively. My work at Het Consulaat brought me this valuable knowledge.
Eerste Hulp Bij Ongewenste resultaten (First Aid for Negative Results) by Loes Wouterson and Pim Bouwman: they translated Chris Argyris' complex work into practical tools.
Managementteams by Meredith Belbin and the Masterclass Belbin by Rob Groen: all about teamroles. Play your strength!
Acknowledging what is by Bert Hellinger about systhemic work and constellations.
Beelden van de ziel by Daan van Kampenhout about systemic work and shamanism.
Making love by Barry Long.
De creatiespiraal by Marinus Knoope.
Volmaakt in het nu by Paul Ferrini.